About Eventide Realty Services LLC, Ft. Myers Florida
Eventide Realty Services, LLC is a full client-service based Real Estate Company focusing on just that – client service. We service all real estate needs, including sales, property management, and rentals. Our programs have been based on extensive experience in both the Real Estate and Hospitality industries. We create a successful experience for our clients through personalized service and effective communications and follow-up. To our Clients, we offer customized options in both sales and property management… up to a full-service program for all your real estate needs.
Our Broker, Kathy Stobb, has been a dedicated Realtor with experience in Real Estate, New Home Development and Relocation for over 20 years, and over 16 of those years in Florida. She has created various degrees of creative and unique marketing techniques for her clients over the years using a combination of technology, networking, and unique thinking that enhanced her clients properties' exposure to the market and dramatically increased her long list of happy clients. Since that time, Kathy grew with the market and watched the tremendous growth, fall, and resurgence of the versatile market here in SW Florida. True commitment to providing the best service to her clients and educating them to make the best informed decisions for themselves enabled her "clients for life" to rely on her as a trusted professional. Kathy's reputation speaks for itself with an extensive list of satisfied clients, always more than happy to recommend her name as a trusted and knowledgeable professional  – someone who has always exceeded their expectations of a Realtor.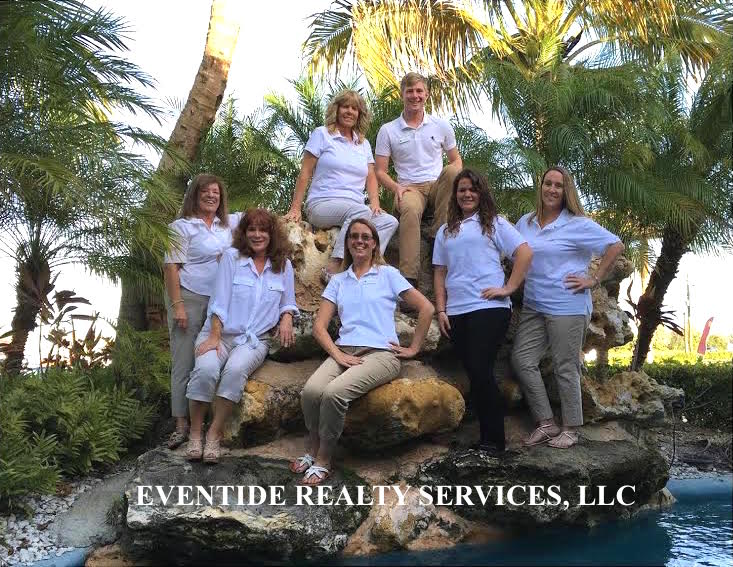 Our Team has also obtained extensive experience in Florida traditional sales, short sales, and foreclosures for both Buyers and Sellers as well as property management and rental securing. Experience working with local professionals and in nationwide relocation has allowed our Broker to develop a list of minimum criteria that members of our team must adhere to.  The Eventide Realty SERVICES philosophy is to provide the highest level of customer service in our industry in order to bring you, the Client, an outstanding Real Estate experience.
There are several factors making our market one of the most attractive areas in Florida over the last few years. Excellent office exposure, combined with our philosophy, will create a stress-free experience in getting your property marketed and sold, in finding your perfect property, or in having someone you can count on manage your property. Personal contact and follow-up, along with constant networking, have been a key to our Real Estate success in the past, that we wish to share with you, and provide you the SERVICE you deserve!
Contact us to find out how we can help YOU!
We want to thank you for all of your help in the Anderson to Howard transaction. Your professionalism helped make everything go smoothly. It was a pleasure working together. Looking forward to the next one.

Thanks again, Kevin and Laura (Seller's Agents)
We just wanted to take a moment and thank you for your help and kindness in the past week. You made a really stressful and complicated time turn into an exciting and positive experience. We feel so lucky to have had your services available – honestly don't think we could have found a better person, a better new home, or had a better experience.

Again & Again, Thank you, Jenn & Lee (Client)
Great Job! Just a note of thanks. Working hard & professional is what you are.

Thanks again, Dave (Realtor)
Kathy has been my trusted real estate agent for the last 4 years. She has been a trusted advisor and partner in helping me to acquire a number of properties in the Fort Myers area. Her dedication and loyalty to her clients is unmatched.

Chris T. (Investor/Owner)
We cannot thank you enough for always being there for us for the past 8 years! We appreciate all you do.

Lisa, Jim, John & Lauren (Property Mangement Clients)
Thank you for finding a renter and taking care of the listing and background check. Looking forward to find a new smaller home soon.

Yours truly, Sally Lee